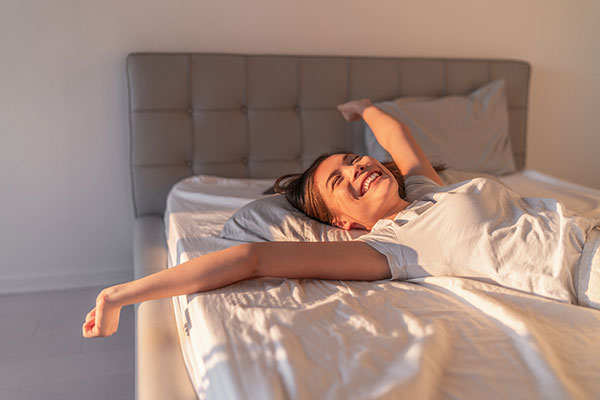 By ELLEN LEWIS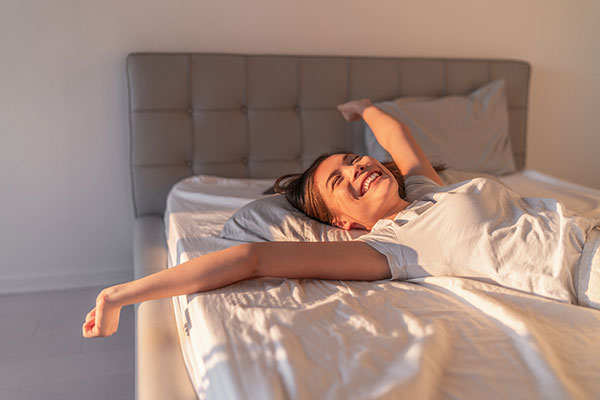 Todd Mick, Executive Director Apparel/ Thought Leadership for the NPD Group recently told me; "While it was a year of upheaval, Intimates transformed through innovation to become the star category in Apparel". Reflecting on the statement, I zeroed in on his use of the word transformation to describe our industry in 2020. Prior to the onset of Covid, my description would have focused on the concept of evolution. So, for clarity, I looked up the definition of both words:
Transformation is a thorough and radical change in form and appearance, while Evolution is a gradual development of something simple to a complete form.'
NPD's micro analysis of the numbers is what substantiates the macro vision necessary to plan intelligently for the future. The optics are clear: comfort at all cost.  Certainly, the acceleration of the wire-free and sports bra business was on track in 2019. Sleepwear was "creeping" forward. Even shapewear was mutating into soft, smoothing constructions. But the Pandemic lockdown intensified these categories to unforeseen levels, curbing the descent of the entire Apparel business.
Using NPD's Consumer Tracking Service for July – December 2020 total Women's Apparel was -19% while Women's Bras were +1%. Sleepwear was +19% and Panties was only down 1%.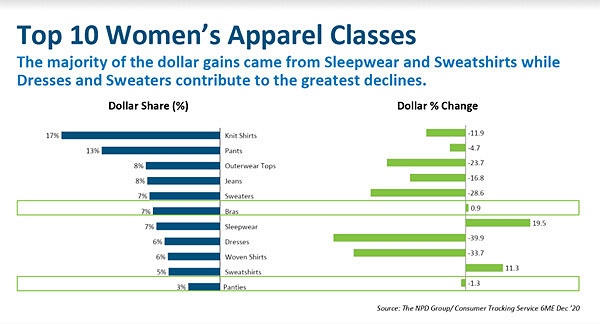 An integral part of the Comfort movement is the concept of self-care which escalated during the forced isolation as exercise became a primary focus. Sports Bras already on the upward curve led the way with a 14% increase in v0lume.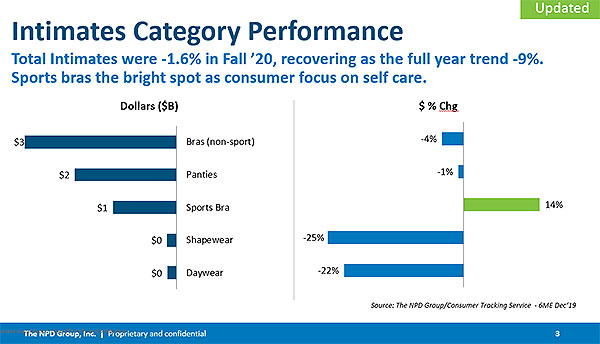 As the Comfort construct drives the Intimates business forward and the ramifications of a forced lockdown recede, wire-free will morph into a hybrid bra. I can attest to the fact that it is already happening, having tried some of the new market additions from brands like Chantelle. Todd believes and I agree that the monikers of underwire and wire-free will be discarded for terms like comfort and supportive.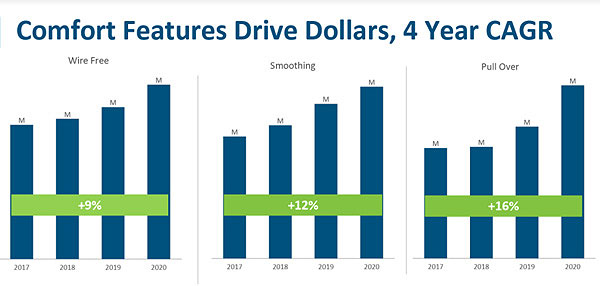 Contributing to the Comfort factor is the increased  ease of shopping created by the necessity of on-line access. For a fact, it changed the approach of many brick and mortar specialty stores whose fervent belief in face-to-face fit was upended. E-commerce sites as well as social media additions were improved to defend their sales. It worked.
Online convenience was embraced by this consumer and has reached a new level of normal at 35% of intimate apparel. It's not surprising that the millennials who comprise 40% of online intimate sales increased by 4%. What is interesting is that the boomer generation was the only other sector that showed an increase. Dubbed "the Silver Surge", this movement both on line as well as in stores is important.  These consumers have been less affected financially by the pandemic, are at a point in their lives where self-care dominates their lifestyles and have been forced to become computer savvy.  They are a major factor in the rising sleepwear numbers. I wouldn't ignore this niche.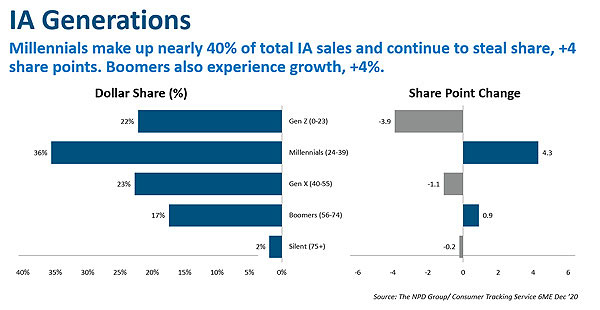 For those of you who would like to hear more about NPD's insights into the Intimate Apparel business, join us on March 30th when the Underfashion Club presents its next industry webinar: "Laying Bare the Intimates Market in 2020 and Beyond".  To Register Click Here